Hampton Roads Drug Crimes Attorney
Work with a Trusted Law Firm in Hampton Roads, va
Have you been arrested for a drug-related offense? If so, it is important that you take immediate action to protect your rights and defend your freedoms. If you are facing drug charges in Hampton Roads, then you need to work with a Hampton Roads criminal defense attorney who is aggressive and knowledgeable of the various laws governing drug-related crimes.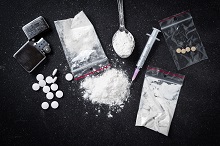 The Law Office of Shawn M. Cline, PC is compassionate about helping people and their families in navigating through these charges. We will do whatever it takes to aggressively attack any evidence that may have been gathered against you and ensure that you receive a favorable outcome to your case.
Your specific circumstances will dictate exactly what a criminal defense lawyer can do for you, so you need to contact our firm to develop a legal strategy that gives you the best chance at success.
What Offense Were You Charged With?
We handle the following types of drug offenses:
Possession with intent to distribute
Drug manufacturing
Retain Our Firm's Hampton Roads Drug Crime Attorney Today
At the Law Office of Shawn M. Cline, PC, we are committed to providing outstanding representation to individuals facing a variety of legal concerns. Our firm recognizes the need for urgency and experience legal counsel after a drug crime arrest, and we will take action to implement an effective legal strategy on your behalf. With the guidance of our firm, you can see a swift resolution to your case.
In addition, the Law Office of Shawn M. Cline, PC recognizes that military members may be facing a unique situation for their charges, and Attorney Cline is proud to offer an extensive background in military criminal defense as well as discounts for active and retired military personnel.
Contact Our Firm
Choose NYC Law Firm